Sélectionnez la catégorie de News Maths-fi :


Les brèves Maths-fi du 26/01/2012.
Maths-Fi vous souhaite une excellente fin de journée et vous propose cette semaine :
---
Agenda
Frontières en Finance
R. Cont (CNRS - Columbia University)-Y.Braouezec (IESEG School of Management)
ont le plaisir de vous annoncer le prochain Petit Déjeuner de la Finance à l'Institut Louis Bachelier (Paris - métro bourse)
mercredi 15 févier 2012, de 8h à 9h30 à Paris
Deadline inscription : 10 février 2012.

Présentation de Andrea Pallavicini (Banca IMI) Credit Value Adjustment in presence of margin requirements and funding costs
Abstract:
We describe how to include funding and margining costs into a risk-neutral pricing framework for counterparty credit risk. We consider realistic settings and include the common market practices suggested by the ISDA documentation without assuming restrictive constraints on margining procedures and close-out netting rules.
Plus d'informations
Rectificatif
Le Club Finance de l' ENSAE le

08h15 à 09h30

chez Ladurée (Paris 6e):
Club Finance du : Mardi 31 janvier 2012
Autour de Pierre Giacometti Politologue, ancien directeur général d'Ipsos, fondateur du cabinet de conseil stratégie « GiacomettiPéron & Associés », conseille aujourd'hui des dirigeants politiques et des grands patrons de premier plan.
Thème abordé: Stratégie d'opinions
Quel rôle jouent aujourd'hui l'opinion et les publics dans la construction de la stratégie et de la décision ? Comment travaillent les conseillers en stratégie d'opinions, auprès des dirigeants ? Comment appliquent-ils leur expérience du politique en faveur des grandes entreprises ?

Plus d'information...
---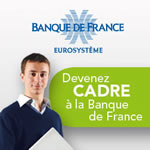 Concours Banque de France 2012 Recrutement Cadres : Rédacteur (Paris, Région Parisienne) - Inscriptions ouvertes du 03 janvier 2012 au 02 février 2012 inclus
Conditions :
vous êtes scientifique, économiste, comptable, juriste.
Vous êtes ressortissant(e) d'un pays membre de l'Union européenne ou d'un État signataire de l'accord sur l'Espace économique européen
Vous êtes engagé(e) dans votre dernière année d'étude ou avez une première expérience professionnelle. Vous souhaitez rejoindre une institution au coeur de l'actualité économique et financière et du fonctionnement de l'Europe.
Cliquer ici pour en savoir plus
---
Soldes d'hiver Maths-Fi : Derniers jours pour en profiter !
Opération 2 pour 1
Pour toute commande passée

avant le 31 janvier 2012 inclus

, Maths-Fi vous offre :
soit un mois supplémentaire
soit une 2nde annonce à diffuser pendant votre mois d'abonnement
Et plus encore !

---
Ils recrutent sur Maths-Fi
---
Et toujours
---
Finance d'entreprise, comptabilité, assurances... diffusez vos annonces sur BFA Emploi !
Plus d'informations sur BFA Emploi